Thomas Houseago (1972 - present) is a British contemporary visual artist. He works primarily in sculpture, with classical sculpture materials such as bronze, metal, and plaster and with lo-fi materials such as clay and plywood, among others.
Primarily focused on the human body, Houseago's sculptures are typically gigantic and almost Frankenstein-ish; they also bring to mind the African and Iberian masks that inspired the Cubist works of artists such as Gauguin, Matisse, and Picasso, and the golem - an entity formed of clay and brought to life by a rabbi, as legend goes. The unfinished-like nature of his work (exposed pencil lines, piecemeal body parts) conveys motion, as seen in his sculpture Baby.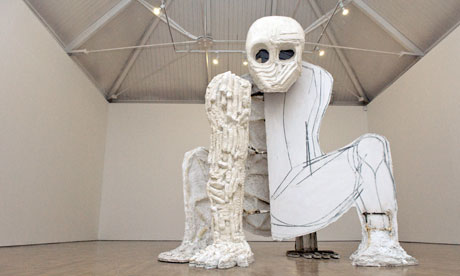 Thomas Houseago, Baby; Tuf-Cal, hemp, iron rebar, wood, graphite, charcoal
This year at the
Art Basel HK
edition, Houseago was represented by
the Gagosian Gallery
. I was quite caught with his triptych. The masks hearken back to Picasso's tribal faces; the layering of lines and different blue tones, Georges Braque's collages and Marcel Duchamp's
Nude Descending a Staircase, No. 2
. See if you see the similarities!
Houseago's triptych
Braque, Portrait of a Woman
Marcel Duchamp, Nude Descending a Staircase, No. 2, oil on canvas